Welcome ACE Hardware
---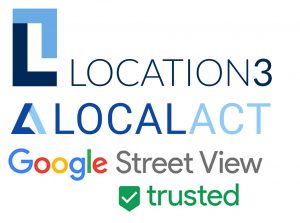 Location3 Media/LOCALACT, in conjunction with TrustedPhotoAmerica(TPA360), a certified Google photographer, is pleased to offer Google's Street View virtual tour service for Ace Hardware retailers across America. As a part of your trusted partnerships with Location3 Media and LOCALACT, we've worked out the details to bring Ace Hardware retailers into the Google Street View program. Here's what you need to know to help your business stand out in Google searches and comply with recommended marketing from Location3 and LOCALACT.
What's Google Street View Trusted?
Google Street View is designed to facilitate further engagement between Google Maps business listings and prospective customers by allowing visitors to "See Inside" your business to get a better understanding of what you do and/or see if they want to visit. Here's a quick video that explains the program:
Check out this short video to see how other types of businesses have benefited:
And here's a live example of a Google Virtual Tour already in use by ACE Hardware.
The Value
Here are the benefits to you:
1. Google searchers can see your virtual tour from within normal Google searches and Google Maps as Google continues to drive user views to virtual tours.
2. When searchers are presented with your center's imagery, they're more likely to spend time viewing the listing and exploring your center or service offering.
3. Having the Google virtual tour helps your Ace Hardware stand out on Google Maps by presenting a much more engaging and appealing representation of your business.
4. Virtual tours show that they can improve the ranking value of your Google listing as Google views listings with more photos as more "complete", and Google values completeness of business profiles.
5. You can use the virtual tour link and professional photos in other places such as your center website and shared via social media or posted to your Facebook page.
The Cost
Ace Hardware has negotiated a deeply discounted, flat-rate offering to US centers working with Location3/LOCALACT:
$845 is your only cost.  This is a one-time fee, provided exclusively to Ace Hardware. There are no ongoing costs, and the tour will stay live for the life of the program.
Professional, Google-approved trusted photographer
POI Photos – Photographer will also take 10 photos of the facility, signage, printing processes, etc. (no people).  You will be provided with the final version of these photos.
Photography session scheduled at your convenience
The virtual tour will automatically be installed into your center's Google business listing on Google Maps and will promote your listing more effectively to prospective customers.
The photoshoot will generally take between 1.5 hours and 2 hours to complete.
After paying the one-time fee, your virtual tour stays online for the life of the Google Street View program.
To schedule your photoshoot, here's what we need from you:
View the Terms of Service(ToS).  During check out you will be asked to check off that you have read and agree to the ToS.  A downloadable version for your records.  
Click here to directly go to the Ace Hardware Check-Out Page where you will complete your order.
Once your order is received, a representative from TPA360 will contact you to schedule your photo shoot and answer any questions you may have.  Please allow up to 5 business days for TPA360 to make contact after you have submitted your information and payment.
It's great if you have customers or employees in the center during the shoot – their faces can be blurred to preserve their identities or remain un-blurred with a signed release. Please ensure your center is clean and ready to be photographed.  The photographers will need to begin immediately upon arrival.  We recommend that you have the center appear as it would on any typical day of business.
30-45 days after your photo shoot, you tour tour will go live.  You will receive a notification from TPA with links to view your new tour directly on Google Maps and download your photos.  The tour will be published on your Google Maps listing; it will immediately begin serving Google searchers with your virtual tour.
Contents on this page are confidential and intended for internal use by Ace Hardware retailers only. Please do not share the contents of this page.  © TrustedPhotoAmerica 2018, All Rights Reserved.